MOCHA CUPCAKES WITH ESPRESSO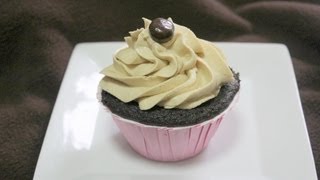 INGREDIENTS:
1/3 Cup of cocoa powder
1-1/3 cup of flour
1 teaspoon of vanilla extract
1 teaspoon of baking powder
1/2 teaspoon of baking soda
1 egg
1/2 cup of brown sugar
1/2 cup of granulated sugar
1/2 cup of milk
1/2 cup of strong brewed coffee
1,5 teaspoons of espresso powder
1/4 teaspoon of salt
1 stick butter
                 DIRECTIONS: 
Put espresso powder in the brewed coffee and dissolve it. Mix flour, baking powder, baking soda, cocoa powder and salt. Mix butter (at room temperature) and brown sugar and granulated sugar with mixer on high speed for 2-3 minutes. Add egg and mix them. Put milk, brewed coffee mixture and vanilla in it. Combine flour mixture and coffee mixture slowly. Cook muffins on 200'C for 17-20 minutes. Cool them completely and frost them. Bon Appetite.