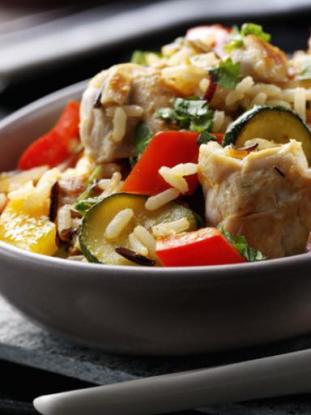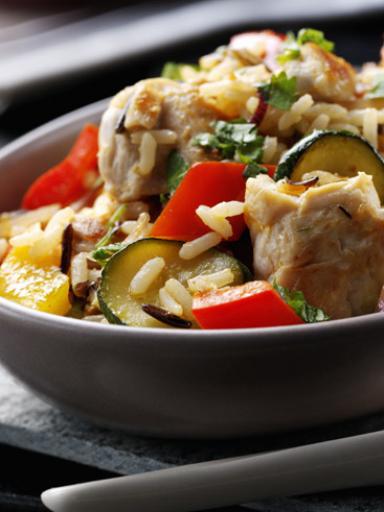 Per serving about:
400 kcal
2 g F
46 g carbohydrates
5 g E
Preparation time: 20 minutes
Baking / Cooking time: 30 minutes
Ingredients (for 2 servings):
100 g rice
250 g turkey breast fillet
2 pcs. Zucchini
100 g leeks
2 cloves of garlic
2 tsp olive oil
2 pinches of salt
2 pinches of pepper
2 pinches of thyme
2 cups vegetable broth
4 tsp tomato paste
Preparation:
Cook the rice and cut the turkey breast into cubes.
Wash zucchini and leek, cut into slices. Peel and chop the garlic.
Heat the olive oil in a nonstick pan and fry all the ingredients in it while turning crispy brown 5 minutes.
Season with salt, pepper and thyme leaves.
The vegetable broth with tomato paste and stir inflict.
Saute 5 minutes and then serve with rice.
Summary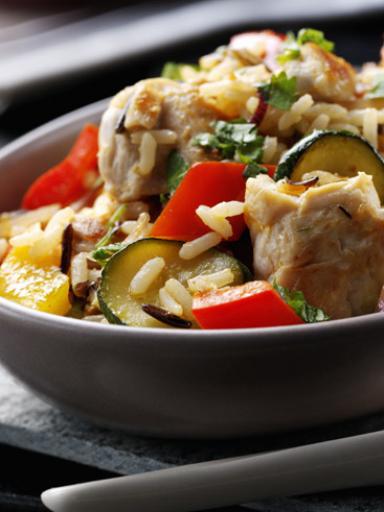 Recipe Name
Mediterranean Turkey with Rice
Published On
Preparation Time
Cook Time
Total Time